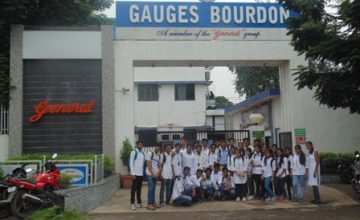 Instrumentation Department
Instrumentation Department – Industrial Visit
Industrial Visit is necessary for the students cause they get the feel of Industry in which they may be serving after graduation.
Bourdan Gauges
Industrial Visit to Bourdan Gauges manufacturing Unit was arranged for second year Instrumentation students. Students got a chance to see Instruments made right before them. All steps involved in manufacturing process of various measuring Instruments was shown to them.
Dahanu Power Plant Visit
Industrial Visit was organized for BEIS at Dahanu Power Plant for subject Power Plant Instrumentation.
Gujrat Fertilizer Visit
Industrial Visit was organized for BEIS students at Gujarat Fertilizer
Student Internship Details

Sr No.

Industry name

Department

Resource person with designation

Name of  students

Duration

1.       

L & T electrical

EAIC

Rajdeep Barot

SiddheshPowar

15.12.2015 to 1.1.2016
2.       
ThyssenKrupp

 
Mr.B.K.Tathgir
DY. General Manager
Personal
Mayuresh Kulkarni
15/06/2016
To
30/06/2016
 
 

3.       

Reliance industries Limited

PMD

Shripad C. Sathe
Asst. Vice. President. HR

Ms.Chitra Y Rawat

15/06/2016
To
30/06/2016

4.       

RashtriyaChemicals & Fertilizers Limited.
Study of Rockwell PLC & Field Instrumentation in Gipson Plant.

Hanumant Kadam
Chief Manager (HRD)

Tanushree
Ghosh

15/06/2016
To
25/06/2016

5.       

Rashtriya Chemicals & Fertilizers Limited.
Study of Rockwell PLC & Field Instrumentation in Gipson Plant.

Hanumant Kadam
Chief Manager (HRD)

Swapnaja Gujar

15/06/2016
To
25/06/2016

6.       

Bharat Petroleum Corporation Limited
FCCU
DGM                (                    ) MR
Mansi Keni
01/06/2016
To
30/06/2016

7.       

Center Railway LOCO Workshop

Study of Diesel Loco Electrical System

Suresh N Shenoy
Training officer / AWM (Coaching)

Kanchan Kedar

13/06/2016
To
02/07/2016

8.       

Center Railway LOCO Workshop

Study of Diesel Loco Electrical System

Suresh N Shenoy
Training officer / AWM (Coaching)

PrachiKamble
 

13/06/2016
To
02/07/2016
9.       
Nuclear Power Corporation of india LTD.
Power Plant Instrumentation
Ajay Parekh
Manager (HR)
ShubhamGhatole
12/06/2016
To
01/07/2016
10.   
 
Reliance industries Limited
PMD
Shripad C. Sathe
Asst. Vice. President. HR
Ms. poojaLabade
15/06/2016
To
30/06/2016

11.   
Supertech Instrumentation
Services (p) PVT. LTD

SCADA
C.S.Limaye
Director
 
Ms. PraneetaKambale
18/12/2015
To
26/12/2015
12.   
SupertechInstrumentation
Services (p) PVT. LTD
SCADA
C.S.Limaye
Director
 
Ms. PrachiKamble
18/12/2015
To
26/12/2015

13.   
SupertechInstrumentation
Services (p) PVT. LTD
SCADA
C.S.Limaye
Director
 
Ms. Kanchan Kedar
18/12/2015
To
26/12/2015
14.   
Oil and Natural Gas Corporation Limited Uran Plant. Uran
Instrumentation
system
A.T. Jadhav
SUPTAG Libraian
Komal Hemant Padte
20/06/2016
to
30/07/2016
15.   
Doordarshan Kendra
Studio, Station ,Field Production Units
Rajesh Barapatre
DY.Director (Engg.)
Komal Hemant Padte
06/06/2016
To
11/06/2016

 
Event:              Training on "Distributed Control Systems" by YOKOGAWA for BEIS and faculty members                       
Date and Time:-      26th Sept2016 to 30th Sept. 2016 (1week)
Objective:       Objective of the training is to provide theory and practical in-depth knowledge beyond syllabus for the students for Distributed Control Systems.
Summary:          One week Training program for BEIS and all Faculty members has been organized. Theory sessions along with practical sessions were conducted in  room no. 115 lab are successfully conducted.
Contents beyond syllabus covered – detailed study of CENTUM DCS (YOKOGAWA) and its Functional Block Diagram programming of DCS for all control loops, alarm management, Interlocks implementation etc.
Faculty attended:   1)Prof.Manisha K.Bhole, 2)Prof. Swati Nadgaundi, 3)Prof. D.N.Pawar,
                 4) Prof. Ankush Gund,  5) Prof.Poonam Patil
Co-ordinator-  Prof.Manisha K.Bhole
 
Event:           Training on "PLC,SCADA and Process Instruments" in collaboration with  'OMRON Automation' and 'Endress+Hauser'  companies BEIS and all faculty members
Date and Time:-      19th Sept2016 to23rd Sept. 2016 (1week)
Objective:           Objective of the training is to provide theory and practical in-depth knowledge beyond syllabus for the students for PLC, SCADA and Process instruments of Endress+Hauser (Level and Flow measurement)
Summary:         One week Training program for BEIS and all Faculty members has been organized. Theory sessions along with practical sessions were conducted in  room no. 247 labs are successfully conducted.
Contents beyond syllabus covered - programming of SCADA in detail, Variable frequency drives with practical demonstration by OMRON automation.
Co-ordinator – Prof. Manisha K. Bhole