2022-23
Webinar on Higher Studies Abroad (New Zealand and UK) 
Industry Details: Aspirez Career Consultancy
Participant's details: Conducted for pass out and final year (batch 2022-23) EXTC students. 32 students attended the session.
A webinar was conducted in collaboration with Foreign University representatives to help students, who aspire to go abroad for higher studies. Different countries have different processes and many of the students are not aware about it. Since most of students have to run from pillar to post in search of good consultants, we are trying our best to make the process smooth for our students. Mrs. Bindu Nair and Mr. Hardik Samariya, Directors of Aspirez Career Consultancy presented the session with inputs for UK and New Zealand options.
Seminar on Career opportunities after Engineering
Date 12/09/2022
Speaker's details: Career Architect and Strategic Partnerships – Careerlabs
Participant's details: 72 students and 03 faculty
A professional ed tech and motivational speaker who has worked with thousands of students and hundreds of colleges pan India. A career architect, to guide and mentor students on all the aspects of placements and higher education. He has been assisting in placing students on the right career paths irrespective of academic capabilities. A strong believer in positive action and hustle.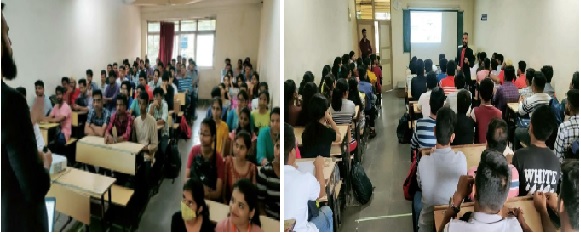 Session on "Skilling Engineers For Professional Success "
Date 30/09/2022
Speaker's details: Mr. Surya Shekhar, Senior Trainer, Konkan Rail Academy.
Participant's details: 110 students and 03 faculty
The objective of the Guest Lecture was to make the students aware of the working of various engineering streams in railways, to know the railway working in totality and various options available for them after they pass out from their college as engineers. 
Seminar on "Project Ideas – Real Life Problems and Finding Their Solutions"
Date 29/08/2022
Speaker's details: Mr. Harshit Tyagi, Scientific Officer, Electron Beam Centre, Kharghar.
Participant's details: 80 ( TEET A & B) students and 2 faculties
The objective of the Guest Lecture was to understand the primary purpose to find out real life problems and ways to get rid from those problems by finding some solution. The Lecture also helped to understand barriers associated in the solutions of problems. Mr. Harshit Tyagi, said that for quality research it is very important to have the highest standards of integrity, impartiality and respect for data. He also said that now the youth of the country are only going to face the challenges and overcome those problems. So, you have to keep a positive attitude and positive mindset for finding solutions for such real life problems.
Session on "Design Thinking, Critical thinking and Innovation Design
Date 27/08/2022
Speaker's details: Mr. Prakash Dudharkar, Owner and Proprietor Automize Solution, Sangli.
Participant's details: 45 students and 2 faculty
                  Institute's Innovation Council and Department of Electronics and Telecommunication organized a motivational session on "Design Thinking, Critical thinking and Innovation Design" on 27th August 2022 from 02:00pm to 03:00pm by google meet platform. He addressed students regarding how to find out real time society problems, as an engineer it's our responsibility to give technical solutions. He said the Mini project is the best platform to you people to do small things in this direction.
Expert Talk on "Future scope in embedded systems"
Date 05/08/2022
Speaker's details: Mr. Devidas Jadhav, Senior Software Engineer, Sasken Technology,Banglore 
Participant's details: 80 students and 7 faculty
Institute's Innovation Council and Department of Electronics and Telecommunication organized an Expert Talk on "Future scope in embedded systems" on 5th August 2022 from 2:30pm to 3:30pm in online mode on Microsoft Teams platform.  The speaker Mr. Devidas Jadhav  is our eminent alumni of batch 2012.He works in Sasken Technology, Bangalore as a Senior Software Engineer. He shared his experience in industry. He guided student about how to shape your career. He also explained difference between IT or core fields and guided student how to choose their field. He also explained about embedded systems, future scope in embedded systems. He covered points like embedded Linux, RTOS,AI, Web3,etc.
Guest lecture on Cloud Security by Mr.Sumanyu Rao
Date 03/08/2022
Speaker Details: Mr. Sumanyu Rao, Network and Cloud Security Consultant, Infinity Lab Pvt Ltd, Noida
Participant Details : BEET A & B (67 students)
Students were introduced to certification courses offered by AWS and Google cloud and provided a comparative analysis between the courses and their benefits.
Students were given inputs regarding higher studies and various job opportunities that are available in the Cloud security domain.
Students were given inputs regarding higher studies and various job opportunities that are available in the Cloud security domain.
2021-22
Webinar on Carrier Guidance
Date 14/03/2022
The speaker Ms. Rubelene Morais is our eminent alumni of batch 2011.She works in Fidelity Investments, Canada as a Manager. She shared her experiences of placement. She guides us to have CV resume carry maintain in decent format. It is very helpful information given by her to us for our upcoming placement. She explained to have one sufficient technical skill for e.g. python, java++, etc. And also she told that if you not started learning languages then start from SQL it is easiest language and also use everywhere. e.g. Data science etc. She also shared her experiences of placement. She also guided us to participate in departmental and college level activity.
Objective: Students should get knowledge about the latest technologies in industry and carrier guidance.
Expert Talk on "Transistors-Basic to Advance"
Date 7/3/2022
Expert Talk on transistor basic to advance was organized on 7/3/2022 for second year students. 
Speaker: Dr.Saptrarshi Ghosh                                                                                                                                                                                                          
Job Title: Assistant Professor
Company/Institute Name: IIT, Indore
Expert Talk
Topic-Cyber Security and Career Options
Date: 24th September 2021
The speaker Mr. Sushant Inamdar is a technical sales specialist for IBM Asia-Pacific security services. He is having 20+ years of experience in IT infrastructure management, security and technology. He did his MBA from IME Pune. He is having so many certifications in CISSP, CSSP, PMP, CDCP, and CSM. He explained the concept of Cyber Security, its framework, Defenses in Depth related to it, top skills in CS and also he has given carrier options in Cyber Security.
Alumni Talk
By Ms Tejal Desai
Date 22/9/2021
Alumni Talk was organized on 22/9/2021 for final year students. Ms Tejal Desai who works system developer in IAI insurance in kualalumpur Malaysia guided the students.
Alumni Talk
By Mr.Shimbhu Singh
Date 21/09/2021
The seminar was interactive, friendly and cleared the thoughts asked by final year students. He also highlighted about which coding language to do and how to face interview.He also shared his experience.He guided student about how to write resume and update linkdin profile. He answered all question of students related to placement. This students understand how to avoid mistakes in writing resume and how to face interview. He explained the importance of linkdinin profile in the corporate world. He gave the view of proper road map for the career in it/software field. He explained how students can go step by step in coding language learning and how to self-update for all types of technology as we the company can allocate different workprojects.
 2020-21
Talk by Alumni-"My First Job"
Date 2/03/2021
Speaker: Mr.Sumanyu Rao, DNIF-Onsite Network Engineer(Cyber Security) The speaker Mr. Sumanyu Rao is our eminent alumni of batch 2017. He is having work experience in NTT NETMAGIC LTD He shared his first job experience with students. He also encouraged students for how to prepare for their first job. He also gives knowledge about various certifications available for
Electronics and Telecommunication students.
Webinar on "Applications of Big Data for Engineers"
Date 13/02/2021
About the Speaker:
Selvaraaju (Selva) Murugesan received the B.Eng. degree in Mechatronics Engineering (Gold medalist) from Anna University in 2004 and the M.Engg. degree from LaTrobe University, Bundoora, Australia, in 2008. He has received his Ph.D. degree in the Electronics Engineering Department, LaTrobe University. During his previous employment at Transport Canberra & City Service directorate of ACT Government as Senior Director of Innovation, Data & Analytics, he has undertaken many data analytics projects. He was responsible for implementation of data management practices and delivering analytics functions to the internal business units to help them achieve organizational goals. His interests are in the areas of data science, open data, hackathon and business strategy.
About the Webinar:
The Speaker began the webinar by giving a glimpse of the fast evolving market of storage devices and the proliferation of data that is taking place. According to data, 260 billion MB of data is being generated. Data from interconnected smart devices can be used for studying the usage patterns of consumers, thereby providing effective service by companies. Big data architecture was discussed which consists of Sensing, Connectivity, Gateway, Management services and Applications. Various Artificial Intelligence/Machine Learning algorithms like Neural Networks, SVM and K-means clustering techniques were discussed. Information about various freely available data sets were provided to students. The webinar introduced the developments in Big data and the job opportunities/scope for research that it provides.
Webinar video link  https://drive.google.com/file/d/1joBLrWnzGcqfc5gkC38Njp0GiVObJci/view?usp=sharing
Webinar on Latest Technologies and Carrier Guidance
Date 11/11/2020
speaker Mr. Ravi Shah He is having 14+ years of experience working on projects for domestic and international clients, including fortune 500. Currently he is working Manager Consulting Services at Deloitte Digital. shared various latest technology trends in industry and also gives idea about innovations in technologies to the students. Also he has given carrier guidance to the students.

 Webinar conducted for final year BVCOE students in collaboration with PSB Academy Singapore
Date 20/07/2020
Topic: "Opportunities in Cybersecurity Industry" in collaboration with PSB Academy, Singapore
○ Objective: To give cosmopolitan exposure to 2020 batch students
○ Prerequisite: Final year student
○ Duration: 1 hour
○ Resource Person: Mr. Eugene Hwang, Senior Specialist & Mr. Ankit
Saurabh, IT and Cyber Security expert
○ Topic Covered: Cybersecurity and its applications
○ No of Participants: 140
○ Impact: Students were made aware about the various opportunities
available for next generation employment and the readiness required for the
WEBINAR ON "CYBER SECURITY"
Date: 06/06/2020
We had speaker, Mr. Yogesh Hudale, Director at Telenetworks Technologies Pvt Ltd. This webinar was conducted in lockdown period so as to create an awareness of Cyber Security. In this webinar the speaker covered some basic aspects of cyber security like purpose and goal of security. Also he spoke about the risks, assets, threats and vulnerabilities that usually take place in such situations where everything is digital. The speaker also gave an exposure to what are hackers, its types and the entire hacking process.
2019-20 
Seminar on Ethical Hacking and Cyber Security
Date: 17 July 2019
Mr. Sankalp is a Cyber Security Researcher, having Keen interest in Network/Mobile Application/Web Application Vulnerability Assessment and Penetration Testing. He has worked for various VAPT projects giving me an adverse knowledge into it and has also worked on various Cyber Crime Investigation/ Cyber Forensic projects. Mr. Sankalp has immense Knowledge on Deception Technologies, Fraud Analysis, Threat and Risk Management, SIEM implementations .
Guest Lecture on DBMS
Date: 10th February 2020
An expert lecture was organized on 10th February 2020 on 'Data Base Management System'. Mr. Hardik Jain who works as a developer at GEP guided the students. Database management system is important because it manages data efficiently and allows users to perform multiple tasks with ease. A database management system stores, organizes and manages a large amount of information within a single software application. Use of this system increases efficiency of business operations and reduces overall costs.
Guest Lecture on Machine Learning and AI
Date: 4th February 2020
An expert lecture was organized on 4th Feb 2020, on the topic Machine Learning and Artificial Intelligence. The speakers were Mr. Ravi Randale and Mr. Ritesh Morya from NetTech India Thane. Machine Learning is a buzzword for the past few years, the reason for this might be the high amount of data production by applications, the increase of computation power in the past few years
and the development of better algorithms. Machine Learning is used anywhere from automating mundane tasks to offering intelligent insights, industries in every sector try to benefit from it.
Seminar on GATE preparation & its opportunities
Date 20/01/2020
The speaker Mr Rohit D.Phalke is from GATE Forum which is the largest organization in the field of GATE training, with a presence in more than 50 countries. He explained the students an overview of various aspects of Gate exam and after cracking the exam what are the options available like higher studies & jobs in PSUs such as BHEL, IOC, NTPC, BPCL, BARC, HPCL etc. that are available for Electronics and Telecommunication students.
Blood Donation Camp 2020
Date 08/01/2020
On the occasion of birth anniversary of our honorable founder, Late Dr. Patangrao Kadam, Bharati Vidyapeeth college of Engineering, in association with MGM Hospital, Kamothe had organized Blood Donation Camp in the department of Electronics and Telecommunication on 8th January 2020. The venue chosen was Room no 230 of Electronics and Telecommunication
Department.Dr. R. N. Patil, Neuro and Spine surgeon, was the chief guest for the camp.
 2018-19
 Spectrum 2K19
Date 12 & 13/03/2019
The Institution of Electronics & Telecommunication Engineers  (IETE) Students Forum organized annual departmental fest 'SPECTRUM 2K19' on 12th and 13th March 2019.
Spectrum as the name suggest gives a brief idea about our department. In technical words SPECTRUM is a band of various frequencies same as that of our students. Our department has various talents apart from technical knowledge. This fest gave exposure to such talents. We conducted various technical and non-technical events. Our Chief guests Hon.Director Dr.V.J.Kadam and Mr.Rajendra Sonwanae (Chief Sanitary Officer, NMMC) are present for inauguration ceremony. H.O.D. Prof. P.A Kharade gave permission and support to organizing team. This event was conducted by our department students under the guidance of ISF In-charge Prof. M.J.Salunkhe.
Social Visit to SHANTIVAN ASHRAM
Date 11/03/2019
A social  visit under IETE Student Forum  to Shantivan Ashram Nere (near Panvel) and Annasaheb Sahasrabuddhe Adivasi Ashram School was organized by Staff Co-ordinator  Prof S.D.Jadhav, Prof. S.R.Wategaonkar, Prof R.B.Mohite, Prof D.S.Raskar , Prof.M.J.Salunkhe and the other teaching  and non-teaching staff members of Electronics and Tele-Communication Department  along with the Student Co-ordinator  Nandini Raul and her team on  11th March 2019.
POSTER COMPETITION
Date 02/04/2019
Electronics and Telecommunication Department organized a POSTER EXHIBITION On  2nd  April 2019 for the students of the  department. To explain and display their innovative projects to the faculty and students. The session initiated by the speech of "Dr. B.P.Souji" sir's cheering the participants and also explaining how the projects help us to enhance the practical and theoretical knowledge. And thus the exhibition was conducted. Objective of the exhibition was to give a platform to the students to represent their idea, technical knowledge and creativity in one project. Students from B.E.E.T.(A&B) has participated in the exhibition with their new ideas combining their knowledge and creativity. All the faculty members shown their presence in the exhibition and shared their view for each project. From all the posters the best three  were awarded by some prizes.
2017-2018
IETE Student's Forum Chapter  Inauguration
Date 3/10/2017
A New Chapter of IETE Students' Forum(ISF) was inagurated  for the students of Electronics and Telecommunication Department  on  3th October 2017 .Dr. S. S. Mande, Chairman, IETE Navi Mumbai was the Chief Guest of the Event.The IETE is the National Apex Professional body of Electronics and Telecommunication, Computer Science and IT Professionals. It serves more than 1,25,000 members through various 64 Centers, spread all over India and abroad. The Institution provides leadership in Scientific and Technical areas of direct importance to the national development and economy.
Teachers' Day and Engineers Day Celebration
Electronics & Telecommunication Students' Forum celebrated Engineers Day & Teachers' Day  on 15th September 2017.The Celebration Started with the welcome speech and felicitation of all present dignitaries.Whole Staff members were felicitated on this occasion for their immense contribution for the development of the students. 
2016-2017
Social Visit to Kushtarog Niwaran Samiti,Shantivan,Panvel
Date 18/03/2017
Faculties along with students made a social visit to  Shantivan  on 18th March 2017
Impulse 2K17- An Intercollegiate Project Competition
Date 22/03/2017
​ET Department in association with ISTE organized  an Intercollegiate Project Competition  for Final year  students on 22nd March 2017 
EXTACTIC 2017 
Date 9th and 10th March 2017
EXTATIC is a  pure technical festival of Department of Electronics and Telecommunication that was  organized by ETSA on 9th and 10th March 2017. As our institution is celebrating its Silver  Jubilee Year, it is promised to be an event on a grand scale. Our festival was celebrated along with our annual cultural college festival named 'Abhiyaan 2k17'. Expected crowd was more than  2500 students during this period just from the campus of Bharati Vidyapeeth only. Being a technical festival, it will be celebrated with much grandeur and a fantastic response from the Engineering Students with the Theme as "ARMED FORCES" and a Social Cause of "Help the Orphan".