2019-2020
| | | | |
| --- | --- | --- | --- |
| Sr.No. | Name of Industry  | Name of Faculty  | Date of Visit |
| 1 | Rein Labs,Mahape | i.Dr.Swati Jha                      ii.Prof.S.R.Wategaonkar            iii.Prof.Sonali Sahu | 15th June,2019 |
| 2 |  Miki Pulley India Pvt.Ltd, Taloja  | i.Prof.T.N.Sawant                          ii.Prof.M.M.Bulhe                          iii.Prof.Z.V.Thorat                  iv.Prof.Swati Patil                          v.Prof.A.A.Qazi | 20th June,2019 |
| 3 | TeleNetworks Technologies,Vashi | i.Prof.R.B Mohite                    ii.Prof.N.R.Ingale                    iii.Prof.S.M.Mane                        iv.Prof.Rajashree Thakare | 21st June,2019 |
| 4 | Accelya India Pvt.Ltd,Pune | Prof.A.V.Sutar | 27th June,2019 |
| 5 | FMC Technologies India Pvt.Ltd,Pune | i.Prof. M.M.Bulhe                          ii.Prof. S.D.Jadhav | 10th May,2019.  |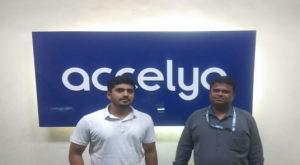 2018-2019
Visit to AUTOMATION EXPO 2018
IED Communications Pvt. Ltd. is organizer of Asia's 2nd largest exhibition for the automation industry-Automation Expo (www.automationexpo.com). The organization has been in the business of promoting the automation industry in India for over 3 decades now and has played a pivotal role in the evolution of the industry in India with its exhibition and publication (Industrial Automation).IED Communications endeavors to understand, pre-empt and cater to the needs of the global engineering industry & provide the best solutions, services, products, technology & know-how.
INDUSTRIAL VISITS
2017-2018
    Location:  Jawaharlal Nehru Port Trust(JNPT)
The Department of Electronics and Telecommunication had organized one-day study visit to JNPT (Uran) for students of TE on 4 October. The main purpose of the visit was to acquaint students with various activities, functioning, etc related to ports. In total 57  students and four teaching faculty namely, Prof.Anand Sutar, Prof.Rajendra Mohite, Prof.Amina Qazi, Prof.Asha Sale volunteered for the visit. The students experienced operations like how the containers were moved from the shipping vessel to various areas of ports.