2018-19
Department of Electronics and Telecommunication
IETE Students' Forum(ISF)
REPORT
On
 "Spectrum 2K19"
The Institution of Electronics & Telecommunication Engineers  (IETE) Students Forum organized annual departmental fest 'SPECTRUM 2K19' on 12th and 13th March 2019.
Spectrum as the name suggest gives a brief idea about our department. In technical words SPECTRUM is a band of various frequencies same as that of our students. Our department has various talents apart from technical knowledge. This fest gave exposure to such talents. We conducted various technical and non-technical events. Our Chief guests Hon.Director Dr.V.J.Kadam and Mr.Rajendra Sonwanae (Chief Sanitary Officer, NMMC) are present for inauguration ceremony. H.O.D. Prof. P.A Kharade gave permission and support to organizing team. This event was conducted by our department students under the guidance of ISF In-charge Prof. M.J.Salunkhe.
Department of Electronics and Telecommunication
IETE Students' Forum(ISF)
Social Visit to "SHANTIVAN ASHRAM"
A social  visit under IETE Student Forum  to Shantivan Ashram Nere (near Panvel) and Annasaheb Sahasrabuddhe Adivasi Ashram School was organized by Staff Co-ordinator  Prof S.D.Jadhav, Prof. S.R.Wategaonkar, Prof R.B.Mohite, Prof D.S.Raskar , Prof.M.J.Salunkhe and the other teaching  and non-teaching staff members of Electronics and Tele-Communication Department  along with the Student Co-ordinator  Nandini Raul and her team on  11th March 2019.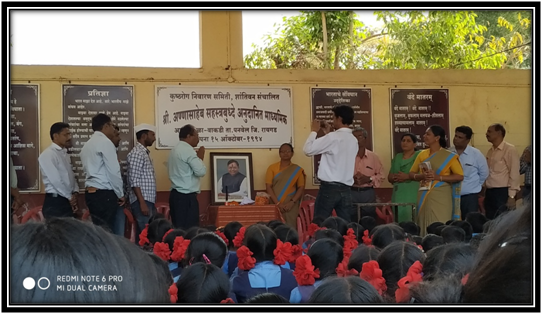 Department of Electronics and Telecommunication
IETE Students' Forum(ISF)
"POSTER COMPETITION"
Electronics and Telecommunication Department organized a POSTER EXHIBITION On  2nd  April 2019 for the students of the  department. To explain and display their innovative projects to the faculty and students. The session initiated by the speech of "Dr. B.P.Souji" sir's cheering the participants and also explaining how the projects help us to enhance the practical and theoretical knowledge. And thus the exhibition was conducted. Objective of the exhibition was to give a platform to the students to represent their idea, technical knowledge and creativity in one project. Students from B.E.E.T.(A&B) has participated in the exhibition with their new ideas combining their knowledge and creativity. All the faculty members shown their presence in the exhibition and shared their view for each project. From all the posters the best three  were awarded by some prizes.
2017-2018
IETE Student's Forum Chapter  Inauguration
A New Chapter of IETE Students' Forum(ISF) was inagurated  for the students of Electronics and Telecommunication Department  on  3th October 2017 .Dr. S. S. Mande, Chairman, IETE Navi Mumbai was the Chief Guest of the Event.The IETE is the National Apex Professional body of Electronics and Telecommunication, Computer Science and IT Professionals. It serves more than 1,25,000 members through various 64 Centers, spread all over India and abroad. The Institution provides leadership in Scientific and Technical areas of direct importance to the national development and economy.
Teachers' Day and Engineers Day Celebration
Electronics & Telecommunication Students' Forum celebrated Engineers Day & Teachers' Day  on 15th September 2017.The Celebration Started with the welcome speech and felicitation of all present dignitaries.Whole Staff members were felicitated on this occasion for their immense contribution for the development of the students. 
2016-2017
Social Visit to Kushtarog Niwaran Samiti,Shantivan,Panvel
Faculties along with students made a social visit to  Shantivan  on 18th March 2017
Impulse 2K17- An Intercollegiate Project Competition
​ET Department in association with ISTE organized  an Intercollegiate Project Competition  for Final year  students on 22nd March 2017 
EXTACTIC 2017 
EXTATIC is a  pure technical festival of Department of Electronics and Telecommunication that was  organized by ETSA on 9th and 10th March 2017. As our institution is celebrating its Silver  Jubilee Year, it is promised to be an event on a grand scale. Our festival was celebrated along with our annual cultural college festival named 'Abhiyaan 2k17'. Expected crowd was more than  2500 students during this period just from the campus of Bharati Vidyapeeth only. Being a technical festival, it will be celebrated with much grandeur and a fantastic response from the Engineering Students with the Theme as "ARMED FORCES" and a Social Cause of "Help the Orphan".