College Gymkhana and NSS  Activity 
Tree plantation event was conducted & organised by NSS Team of BVCOE, Navi Mumbai
Date: 22/07/2018
Sports Activity
Sports Activity
The college has a well- equipped Gymkhana. Sports equipments are made available to all students. Students have emerged with flying colors in various sports activities at college, University, State and National levels.
:- Events -:
CHESS, TABLE TENNIS, BADMINTON, TUG OF WAR, CROSS COUNTRY FOOTBALL, YOGA, SQUASH, JUDO, GYMNASTIC, KHO-KHO, KABADDI, VOLLEYBALL, BOXING, WEIGHT-LIFTING, WRESTLING, TENNIS, SHOOTING, CARROM, CRICKET, KARATE, TAEKWONDO, BALL BADMINTON, HALF MARATHON, ATHELETICS (RUNNING, THROWING, JUMPING, ETC.)
Sports Incharge
 (Mr. R S Deshmukh)                                              
SPORTS DIRECTOR       
Mob. No. : 9869828263                                        
Notices
College will reopen on 1st July 2019, after that all notices regarding sports will be updated in this section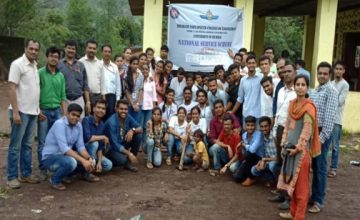 National Service Scheme (N.S.S)
NOT ME BUT YOU.                                         
Program officers –
Deshmukh R. S.
Nikam S. V.
Sonali Sahu
Aim – Development of competent and effective citizen and personality of the students                                                     
 Through the community services.
 Objectives-— 1) To gain skills in mobilizing community participation.
                         2) To practice national integration.
                         3) To acquire leadership qualities' and democrat attitude.
                         4) To develop a sense of social and civic responsibility.
Information about Unit – 1. No. of P .O-03 (THREE units)
Allotted strength – 50
Actual Enrolled strength – 50
Allotted strength for special camp – 50
N.S S Conducted Following Activities for year – 2018-2019
1) TREE PLANTATION
2) ROAD SAFETY WORKSHOP
3) KERALA RELIEF FUNDS
 4) CLEANLINESS DRIVE.
 5) ANTI PLASTIC CAMPAIGN
 6) NSS PUBLICITY WEEK
 7) BLOOD DONATION CAMP
8) DISASTER MANAGEMENT WORKSHOP